Improve Your Sleep 
Improve Your Life!
Block out artificial blue light and reduce eyestrain with these trendy wooden blue light block glasses from 4EST!
Who Needs Blue Light Blocking Glasses?
Does your job require you to be on a computer or laptop most of the day?  Are you frequently on your phone checking social media and surfing the web?  Do you like to unwind at night by catching up on your favorite TV shows?  If you said
YES 
to any of those questions, then these blue light block glasses will help you immensely. 
4EST Wooden Blue Light Blocking Glasses:
 Reduces 97% of blue light from electronic screens
 Transform your sleep and wake up feeling refreshed
 Anti-eyestrain glasses for improved eye performance
 Stylish wooden design that you can wear anywhere
 Environmentally friendly company
Click
"Add to Cart"
and see for yourself the positive impact these blue light block glasses will have on your life!
The Problem: Digital Eye Strain 
Prior to the advancements of digital screens, blue light was only present during the day and signaled the brain to stay awake. In today's digital age we are constantly flooded with blue light emitted from our devices. Tv's, computers, cell phones, and tablets - They keep us connected to one another but have shown to disconnect us with our nocturnal patterns. 
Blue light is a high energy light that screens emit.  Studies show that overexposure to blue light may be linked to eye strain, increased risk of macular degeneration, and sleep cycle disruption. 
The Solution: Blue Light Blocking Glasses
Our eyes are not designed to filter or block blue light.  These blue light block glasses reduce 97% of the blue light that is emitted from electronic screens allowing you to naturally fall into your normal circadian sleep cycles.  
Just wear your blue blockers a couple hours before bed to help ensure your electronic devices don't interfere with your sleep. 
You will notice a difference! 
Test Your Blue Light Blocking Glasses:
The above light strips show the standard wavelengths of light. As long as you have good color vision and a standard monitor you should be able to see the difference in the two strips at the 450nm mark. 
In the top image, the blue light has been left in and in the bottom, this blue light has been removed. You can test for yourself the effectiveness of the lenses by wearing them while looking at the two strips. 
With your blue light blocking lenses on these two strips should look nearly identical as the blue light is filtered out.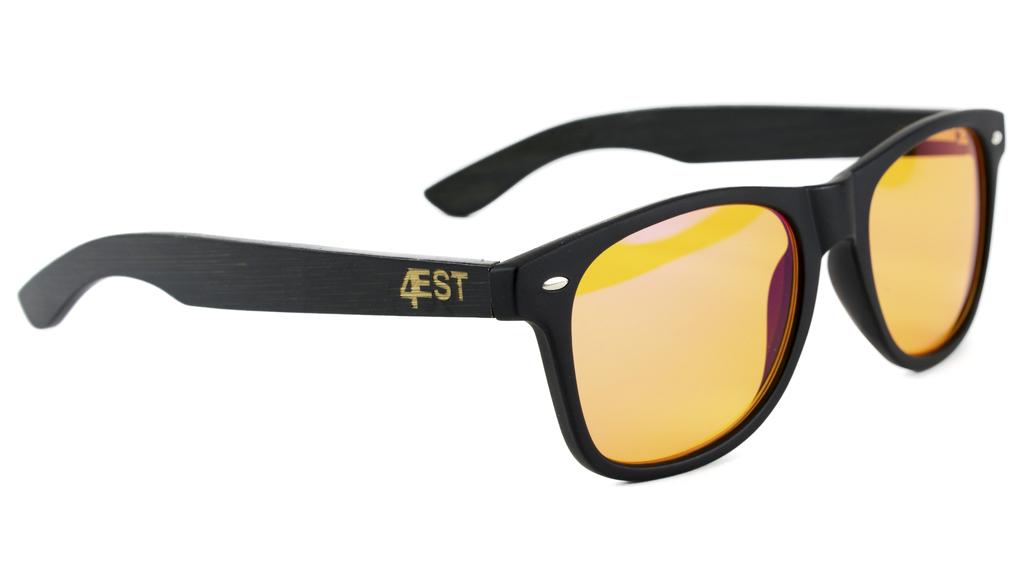 Stylish Wayfarer Design
Eyewear should be built to look good, period! As these blue light blockers are built to protect your eyes, we wanted to ensure they look good so that they actually get worn.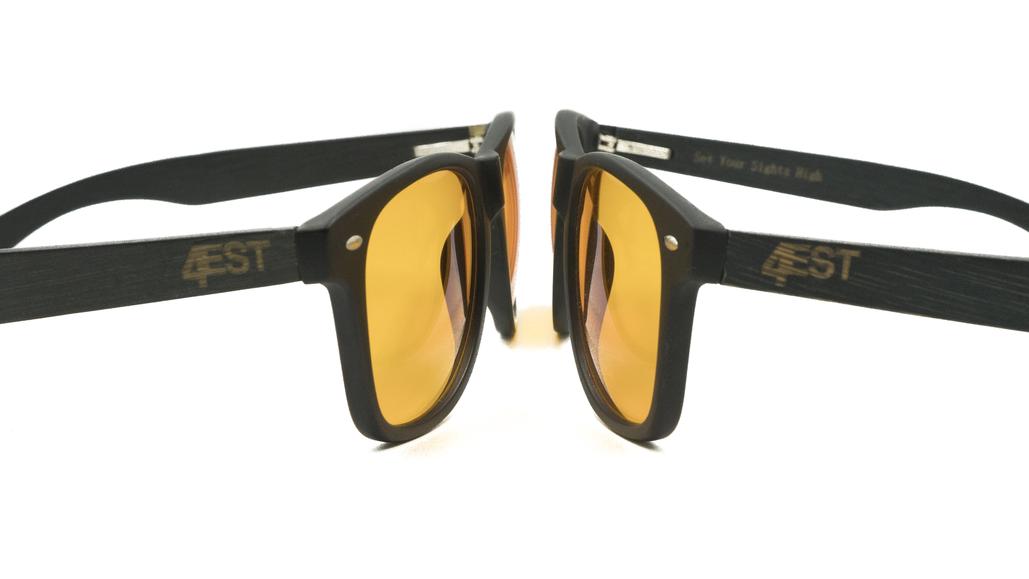 Two Sizes 
At 4EST Shades we currently offer most of our products in a 51mm & 55mm size options. These measurements are based on the lens size but do affect the overall frame size.  We typically recommend the 55mm for men and 51mm for women but your preference comes first. 
Some things work.
"As a high school English teacher and a PhD candidate, I spend a lot of time staring at a computer screen. Over the past few years, I have noticed a marked increase in eye strain and headaches. I have been wearing the 4-est glasses for a couple of weeks now, spending the same amount of time or more at the computer, and the eye strain and headaches have completely vanished. I do have to take them off occasionally, due to the shading, to see a picture more clearly, but this is trivial compared to the time-limiting discomfort I experienced consistently before putting on the 4-est glasses.
Addendum:
After more than a month of using the glasses, I still have not experienced the alternately dry or watery eyes and headaches that were a recurrent theme in my extended time at the computer before I bought the 4est glasses. In other words, they really work."    
Excellent!
"Glasses fit well, are lightweight, and very comfy. I was skeptical about the whole bamboo arms things, but they rock! These glasses are too heavy on the gold for patient care areas, but elsewhere they're great, and dark enough to wear on sunny days. Vision is clear and eyes feel great. Also, I gotta give it to the 4est guys. The wooden box the glasses shipped in, the carry pouch, lens cleaner cloth, the way it was all packed perfectly. They really have their act together on all fronts. No regrets. None at all."
Shop with us
today

and see why people Love 4EST Shades
The 100% No-Risk Promise
Order right now with confidence!
Try 4EST Shades out for
30 days
and if you dont like them, you can return them for a full refund! There's absolutely
no-risk in giving it a try.
No questions asked, you can get your money back!
©2018 Copyright. All rights reserved